03 | 04 | 2015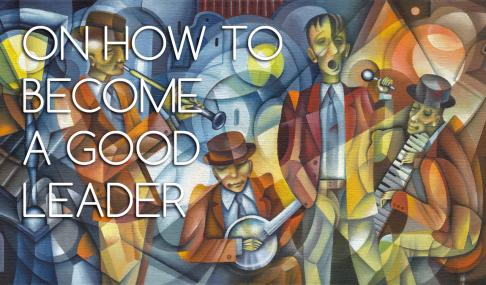 On How to Become a Good Leader
I love music. And I think that music can give an answer to everything. Even on how one should become a good leader in this ever-changing business environment. I know, this analogy might sound weird at first. But give me a second before making any conclusions.

Think of classical music performers comprising an orchestra, and the conductors role in this case. All members of the orchestra are given the musical score. In other words, they are given clear guidelines on which note should be played, when, how loudly, how expressive. However, high levels of dependency are present amongst performers. For example, if a violinist accidentally plays a Sol instead of a Re the resulted sound might be very painful for the ears, destroying all other violists effort. Similarly, if a violist mistakenly makes a crescendo instead of the guided staccato, the produced overall expressiveness of sound might not be ideal. Therefore, when playing classical music everyone has to be very careful and pay paramount attention to details.

So, whats the role of the orchestras conductor, or the orchestras leader- in business terms-, in all the above? (S)he has to ensure that everyone is well-organised and performs solely, and perfectly, whats written on the musical score. The role of the orchestra's CEO, in other words, is to organise all these talented performers when making music. Added to this, (s)he is the only one who can make creative additions that could potentially lead to a more personalised performance.

In the times when the business environment was very stable, members of each company were required to efficiently perform the given business plan paying great attention to each small detail. As the structure of most companies was extremely hierarchical, it was the CEOs responsibility to coordinate all different sectors; nevertheless, (s)he was the only person entitled to make any sort of creative additions to the targeted business ventures.

Now think of a jazz band. The key to make a great performance is not to follow the rules. There is no specific musical score that has to be followed, just a general theme. Members of a jazz band are therefore free to be creative, and build on the creativity of others. They are required to be ready to lead and get leaded interchangeably and indefinitely. Furthermore, each performance is interactive in nature, as the audience is allowed to instantaneously give feedback, either in a direct (clapping) or in an indirect (body language) way- such behaviour is definitely not allowed at a concert of classical music. In turn, the respective jazz band performs in a way to combine the performers creative tendencies with the audiences preferences.

Businesses operating in the contemporary ever-changing corporate environment are more vertically structured a fact that necessitates them to act like jazz bands. Members of each company, although having different roles and responsibilities, are required to be equally creative, and, in turn, build on the creativity of others. Consumers, just like the audience of a jazz band, can provide instant feedback on the qualities of the product using social media.

I am sure that many of you dislike jazz music. But if you want to become a great leader, you have to become a good jazz player!
Comments
Comments are not allowed on this post